NJPAC Gala attendees on government shutdown and oversexualized pop stars
On the "A" w/Souleo
Souleo - | 10/10/2013, 11:21 a.m.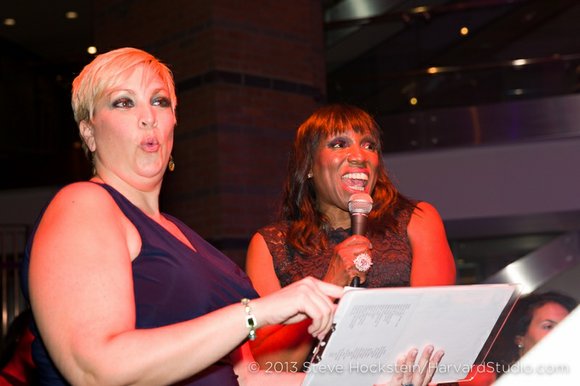 During an evening inspired by the whimsy of "The Wizard of Oz," attendees at the New Jersey Performing Arts Center's (NJPAC) 18th annual Spotlight Gala didn't hesitate to delve into less lighthearted topics such as the government shutdown and controversial pop stars.

Speaking from behind a shimmering black mask during the masquerade cocktail reception, gala chairperson and Essence magazine editor-at-large, Mikki Taylor shared that the shutdown serves as a reminder that we must not rely on government to solely fund the arts. "It says we have to take matters in our own hands and charge those who we place in office to be accountable to our needs and desires. What will thrive is the giveback. That won't change and will only grow," she says.
The Newark native was one of several special guests including performers Ledisi, India, Ann Hampton Callaway, The Four Freshmen, and Naturally 7. Taylor also revealed that on the stiletto heels of her Michelle Obama inspired style guide book, Commander in Chic she will release two additional books and possibly branch out into television. "There are two books coming and I'm looking forward to a possible TV show. No tidbits yet on the TV show but wherever you find Mikki Taylor she is empowering women and that will be at the center of it," she says.
The empowerment of women and whole communities is a central focus of the Women's Association of NJPAC, which hosted the gala and has helped raise over $40 million for the institution since 1994. Gail P. Stone, managing director of the Women's Association didn't shy away from addressing the representation of women in pop culture when asked to share her thoughts on the controversial hypersexual images of pop stars such as Rihanna and Miley Cyrus. As Stone notes being sexy can be empowering, but perhaps not as much as supporting the arts. "We know the power of strong intelligent woman and banding together. There are times it's okay to be sexy and times to get the job done and tonight's gala is a good example of that."
Aiming to get more people to work is the economic empowerment tour, Many Faces, One Dream presented by The National Black Justice Coalition (NBJC) and the U.S. Small Business Administration (SBA). The tour travels to various cities throughout the country that have a significant LGBT presence in communities of color including Atlanta, New York and Detroit. With its mission of economic advancement the project faces a tough challenge concerning the transgender community. Recent studies discovered that the transgender community has an unemployment rate twice that of the general U.S. population. Plus there are no federal laws that provide widespread protection against discrimination in the workplace based on gender identity/expression. According to one of the tour's community partners Carmen Neely, president of Harlem Pride, encouraging entrepreneurship in various sectors including the creative arts is essential.
"It's hard to get employment for transgender workers so this is a way for them to say bump society, I am talented and can offer services and products," she says. "This tour will enable them to support themselves and that's what we need no matter what part of the rainbow you identify with. Economic empowerment means that we can build a community of businesses that we can patronize and be respected for who we are and how we live as people."