Talking SCHOP! Preparing for Thanks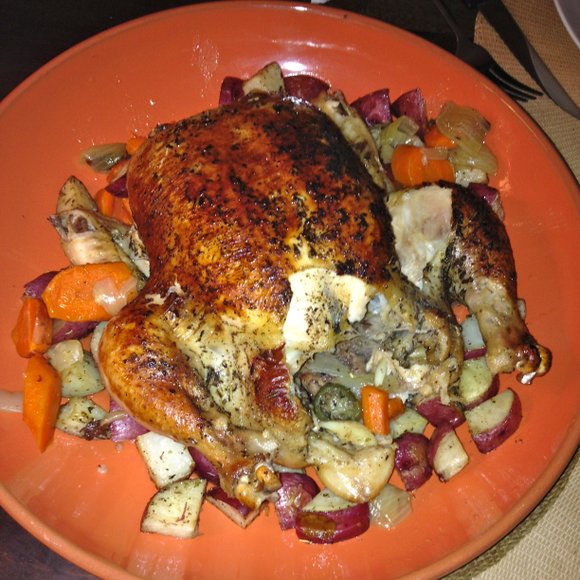 When Halloween is over, the next seasonal step is Thanksgiving, right? So why am I only seeing advertisements for Christmas? There is so much joy to be had in the in-between. I find it especially frustrating because I have been thinking about a new stuffing idea I want to try with spicy lamb merguez sausage and persimmon. Yup!
Before I go any further, for all of you readers asking for that turkey recipe annually (thank you!), the Amsterdam News has it available online at: Turkey Time. There, you can find the recipe and an option to brine your bird for a more succulent, finished product.
In preparation for the big day, I roasted a 4.5-pound chicken in a Dutch oven for Sunday supper this past weekend. It was moist, flavourful and relatively faster than open roasting it. It could be a nice option this Thanksgiving for a smaller turkey or, should you have a large Dutch oven, a regular turkey.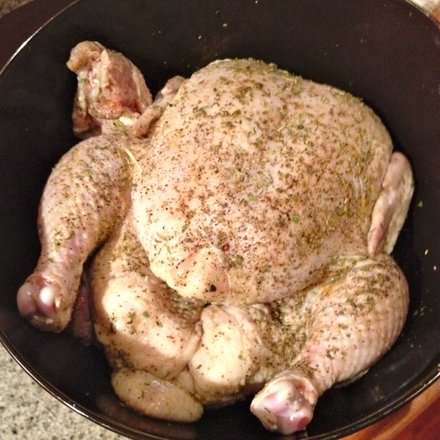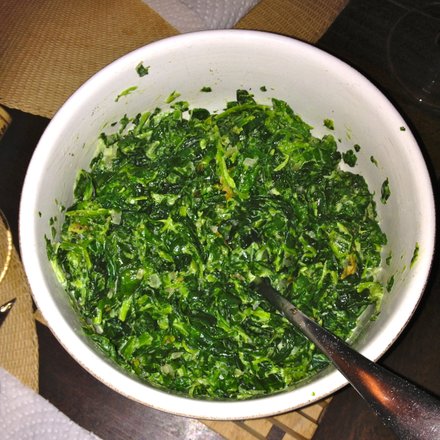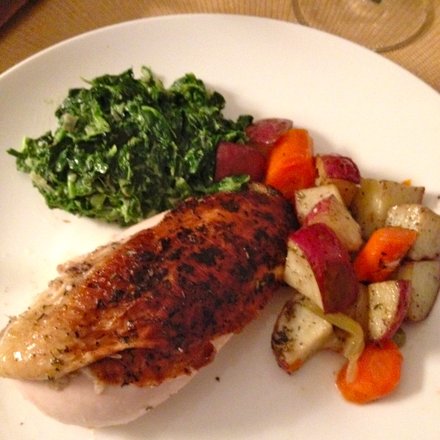 After washing the chicken, I submerged it (the giblets too) in a brine of wine, water, salt, sugar, bay leaf, peppercorns, sliced jalapeno and garlic. I covered it and let it brine for 13 hours in the refrigerator. You can let it go longer if desired. This technique tenderizes the meat by breaking down the sinews and fibers so the bird absorbs flavor better.
I strained the bird of the brining liquid, patted it try and seasoned it inside and out with freshly ground black pepper, salt, adobo and herbs de Provence (dried savory, sage, oregano, lavender, rosemary, thyme). I covered it back up and put it back into the fridge for another six or so hours.
Before I was ready to cook it, I removed it from the fridge and let it sit on the counter for an hour to come to room temperature.
SCHOP! Tip: Cooking cold meat will only ensure uneven cooking and either an overdone, dry product or a well-done exterior and raw interior.
Over medium heat, I melted three tablespoons of butter then added the bird breast side down to brown for five minutes. Once done, I inserted a wooden spoon into the cavity to flip the bird (no pun intended) to brown the other side, six minutes.
Once the browning was complete, I nestled a couple of chopped carrots, a chopped medium onion, six whole peeled garlic gloves, one chopped stalk of celery (if I had it) and a couple of bay leaves. I covered it with the lid and slid it into a preheated 350-degree oven for 75 minutes. Now, I could have gone the low and slow route, 250 degrees for almost two hours, but I was hungry.
The bird came out moist (even the white meat), tender and really flavourful. The pot liquor, with all the giblets, was rich and will make great gravy too. I served it with roasted new potatoes and quick creamed spinach (shallots and garlic sautéed in butter, add defrosted and squeezed frozen spinach, season with salt and pepper, finish with heavy cream to taste).
My notes: While I put some good browning on the bird, the Dutch oven needs to be large enough to allow more browning around it or perhaps needs to be cooked uncovered for a bit and/or needs basting once or twice. I will certainly go the low and slow route too after brining and seasoning for almost 20 hours—what's another 30 minutes?!
I hope your preparation is going well. Please email, tweet or Facebook me with questions. I am here for you!
Happy eating and thanks for reading!
Questions? Comments? Requests? Feedback? Invitations? Email her at kysha@iSCHOP.com, follow her on Twitter and Instagram @SCHOPgirl
Facebook www.facebook.com/SCHOPnyc or chat with her on Instant Messenger at AskSCHOP, Monday-Friday, 6-8 p.m.
For even more recipes, tips and food musings, subscribe to her blog at www.talkingSCHOP.wordpress.com