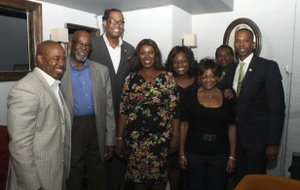 It was a night of historic wins on Tuesday night as New York City's political landscape saw one of its largest makeovers in over 20 years.
With the city electing its first Democratic mayor since 1989, the first Black female citywide elected official, a Black Brooklyn borough president and a Black Brooklyn district attorney, it appears that voters got their wish in looking to change the direction of the city.
Bill de Blasio trounced Republican candidate Joe Lhota, taking nearly 75 percent of the votes. Lhota received just under 25 percent of the votes.
During his acceptance speech, the now mayor-elect pledged to drive the city in a more progressive direction by leveling the playing field for all New Yorkers.
"Tackling inequality isn't easy. It never has been and never will be," he said. "The challenges we face have been decades in the making, and the problems we set out to address will not be solved overnight. But make no mistake: The people of this city have chosen a progressive path, and tonight we set forth on it, together, as one city."
History was officially made in the race for public advocate. Taking over 83 percent of the votes, City Councilwoman Letitia "Tish" James beat out seven candidates, making her the first African-American citywide elected official.
"It means that we broke through the glass ceiling, and it means that all things are possible," James said during her victory speech. "I would love to have an army of attorneys making sure that people have access to programs, looking at social justice cases and impact cases and pattern and practice cases, and really making sure that government is transparent."
Scott Stringer won the race for city comptroller, beating five other candidates, including Black Republican John Burnett. Stringer, who faced former Gov. Eliot Spitzer during the primaries, earned 80 percent of the votes, taking the place of current City Comptroller John Liu.
In the borough presidents' races, the city is bracing for some leadership. Ruben Diaz remains Bronx borough president, taking nearly 90 percent of the votes. Gale Brewer was named the new borough president of Manhattan, taking 83 percent of the votes, and Melinda Katz took the position of Queens borough president with 80 percent of the votes.
However, it was Eric Adams who made history by being elected Brooklyn's first Black borough president, taking 90 percent of the votes against Conservative Party candidate Elias Weir.