Spring '13 styles in living colors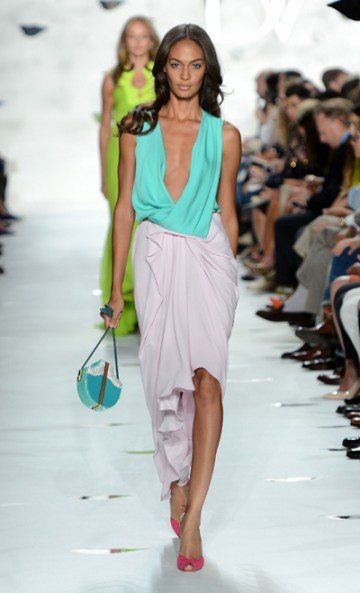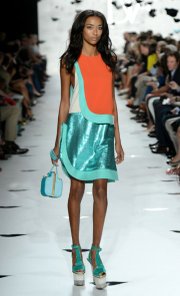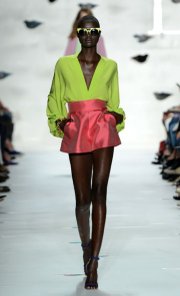 Color-wise, Diane Von Furstenberg's (DVF) spring '13 collection is on fire and fabulous! Her looks are bright, loose-fitting, functional, young and playful.
She first entered the fashion world in 1972 with a suitcase and some jersey dresses. Two years later, she created the wrap dress that symbolized power and independence for an entire generation of women. By 1976, she had sold over a million of the dresses and was featured on the cover of Newsweek. After a hiatus from fashion in 1997, Von Furstenberg re-launched the iconic dress that started it all, re-establishing her company as the global luxury lifestyle brand that it is today. DVF now offers four complete collections a year with an exclusive range of accessories that include shoes, handbags, eyewear, fine jewelry, luggage and fragrance. DVF is sold in over 70 countries and 85 shops worldwide.
In 2005, Von Furstenberg received the Lifetime Achievement Award from the Council of Fashion Designers of America for her impact on fashion. One year later, she was elected the CFDA's president, an office she continues to hold. In this significant role, she has dedicated herself to fostering emerging talent and helping to establish the Design Piracy Prohibition Act, which protects designers from counterfeit reproductions of their work.
Von Furstenberg's commitment to empowering women is expressed not only through fashion but also philanthropy and mentorship. She sits on the board of Vital Voices, a non-governmental organization that supports female leaders and entrepreneurs around the world. In 2010, with the Diller - Von Furstenberg Foundation, Diane Von Furstenberg established the DVF Awards to honor and provide grants to women who have displayed leadership, strength and courage in their commitment to their causes.
As a longtime resident of New York's Meatpacking District, Von Furstenberg is a vocal member of the local community and was actively involved in the campaign to re-use the historic High Line railway. She was also voted the most powerful woman in fashion by Forbes magazine, coming in at No. 33 on their list of the world's most powerful women. With all of her successes, Von Furstenberg happily maintains, "Children are my greatest creation."