Tata Mandela: rest in perfect peaceful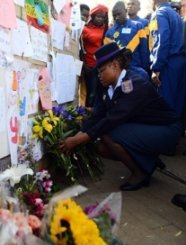 South African President Nelson Rolihlahla Mandela died on December 5, after a prolonged illness. He was 95. He was born on July 18, 1918, in Mvezo, apartheid-led South Africa, and died in Johannesburg – in a very different South Africa.
 The hymn, the rallying song "Nkosi Sikelele i'Afrika," has been the soundtrack of this week, which has seen days of commemoration for a man who in death has united at least for a poignant moment sworn political rivals who shook hands with their perceived nemesis – for example Pres. Barack Obama and Cuban leader Raoul Castro. The mainstream media had a conniption over that. Obama delivered a speech that encapsulated the defiance, the strength, the courage, the unifying focus and discipline of the man who created a South Africa free of legal apartheid rule. "Mandela understood the ties that bind the human spirit. There is a word in South Africa, 'Ubuntu,' a word that captures Mandela's greatest gift: his recognition that we are all bound together in ways that are invisible to the eye; that there is a oneness to humanity; that we achieve ourselves by sharing ourselves with others, and caring for those around us," said Obama to plentiful applause.
"Grateful" was the gospel song ringing through the rafters at a Brooklyn memorial, at Rev. Herbert Daughtry's House of The Lord Church on Sunday 8th December. The Church, revealed Daughtry, was at the center of the anti-apartheid movement in New York.
So while, revisionists ponder upon which version of their concocted or elaborated Mandela story to spin, genuine- tried and tested anti-apartheid activists who were in the trenches before it was trendy – actually when it was seen as subversive – grieve, reminisce and stratergise how to continue a mission of a free and independent truly African-governed South Africa.
Rev. Daughtry is one such activist who took on the mission of calling for the freedom of Nelson Mandela long before there were slogans, T—shirts and European-penned pop songs.
"There were movements - The National Black United Front which I headed, The All African People's Revolutionary Party which Kwame Toure headed, Viola Plummer, Omawale Clay, D12 Movement, Mr. Ron Daniels, Councilman Charles Barron, Elombe Brath, and Clemson Brown and many more. and many more," Daughtry told the AmNews. "One of my concerns is that in these times imposters come to the scene and who have done nothing but claim to have done everything. Even those who are enemies are now Mandela's greatest supporters. People who criticized us are now claiming to be a part of the anti-apartheid movement. Thus, those who were in the vanguard, those who suffered, beaten, chased through the streets of New York, jailed, boycotted, demonstrated, in a word, made sacrifices, put their lives on the line are forgotten or marginalized."
Such was the indomitable link between Daugherty's House of the Lord Church, and his wife Rev. Dr. Karen Daughtry's Sisters Against South Africa – that their church was the very first port of call when Winnie Mandela came to New York in 1990 – not City Hall, not Yankee Stadium, not even Harlem's 125th Street. Nelson Mandela's first stop when he came to New York in 1990 was Boys and Girls High school (which the Department of Education evidently has tried to soothe the blow of introducing a charter school in the Bed Stuy – by naming it for the great Pan African leader). The Mandelas traveling first to the two iconic locations was to pay homage to the people of Central Brooklyn, who forged an unbreakable bond with the embattled people of South Africa who were fighting by any means necessary to free themselves of the yoke of the racist – indeed fascist – Dutch Afrikaner apartheid system of government, where 4 million whites had created such a diabolically wicked system of government where they could take the land from and govern the 22 millions Africans in the region known as South Africa.