Trayvon's hoodie on way to D.C.?
Victoria Johnson | 8/29/2013, 9:24 a.m. | Updated on 8/29/2013, 9:24 a.m.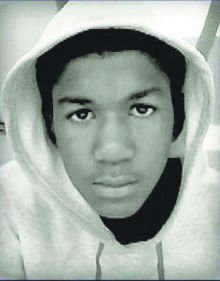 At a recent press conference, President Barack Obama told Americans that 35 years ago, he could have been Trayvon Martin, the hooded, unarmed 17-year-old who was shot and killed by neighborhood watchman George Zimmerman.
Now, the iconic hoodie that Martin was wearing on the night his life ended may be on display a few miles from the White House at the Smithsonian Institute's National Museum of African American History and Culture (NMAAHC) in 2015.
"It's rare that you get one artifact that really becomes a symbol," said Lonnie Bunch, the director of NMAAHC, to the Washington Post. "Because it's such a symbol, it would allow you to talk about race in the age of Obama."
The Rev. Al Sharpton, who is largely responsibly for bringing Zimmerman's case to trial, also told the Washington Post that he would like to see the hoodie "preserved."
"The hoodie now represents an image of an urban street kid who either embraces or engages in street thug life," Sharpton said. "I think it's unfair."
Sharpton added that by wearing hoodies at rallies, he and others are looking to redefine the symbol.
Rakim Amalu Jenkins, a student from the City College of New York who appeared on HuffPost Live to contribute to the conversation on "Raising Our Kids in a Racist Post-Racial World," said that he thinks it would be a good idea to display the hoodie in order to continue a conversation on racism in America.
"Ultimately, I think it is a good idea if the hoodie is used to address larger issues in American society: racism, racial profiling, mass incarceration, stop-and-frisk, the school-to-prison pipeline and the structural issues with the community justice system and the police department," Jenkins told the AmNews.
Since the shooting last year, protesters around the United States have been wearing hoodies to rallies while chanting phrases like "We Are All Trayvon Martin." On the Internet, hashtags on social media, such as "#HoodiesUp" from the Millionhoodies Movement and "#IamNotASuspect," have gone viral with pictures of people with their hoodies on. Celebrities such as the Miami Heat basketball players have also been taking photos of themselves with hoodies on.

Martin's hoodie, however, is still being held as evidence by the Department of Justice until it's decided whether Zimmerman, who was found not guilty of murder with the reason of self-defense by a jury of six, will be charged on a federal level for violating Martin's civil rights and acting on racial pretenses. The hoodie will later go back to Sanford, Fla., where Martin's family will have the option of collecting it or donating it to the NMAAHC.