Actress Phyllis Yvonne Stickney Returns After Rescuing a Harlem Neighborhood
Souleo | 11/28/2012, 10:21 a.m.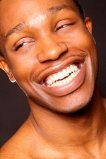 In the late 1980's to mid-1990's, actress and comedienne, Phyllis Yvonne Stickney was one of Hollywood's most promising talents. A string of roles in films such as What's Love Got to Do With It, Malcolm X and the TV series, A Different World won over viewers and critics. However just as she was reaching her peak, Stickney virtually disappeared from the limelight. Now she exclusively reveals to us what she's been up to for over a decade including transforming the formerly drug-infested St. James Court building in Harlem to launching several new business ventures.
"There was a building in Harlem that became drug infested. I moved away, kept the apartment and after I became famous I came back to save the building. It took 5 years of my life," she says. "I closed three crack houses and a heroin shooting gallery in my building. I pretty much became a social worker."
The Harlem Arts Alliance member also experienced career setbacks due to her personal life, which involved the end of a marriage. "I tried to focus on having a marriage, a child. When I wasn't able to conceive later with my husband it broke up our relationship. So I came back to work."
Stickney doesn't look back on her absence with regret even though she admits to turning down highly coveted roles in hit TV shows such as Boston Legal, and Californication. Throughout the years, Stickney has continued honing her craft and developing new projects including a clothing line, directing and nurturing young talent through the Stickney Theatre Project.
"The challenging thing is connecting to the generation who forgot what I did and remaining relevant. So for me to be a poet, designer and all those things is how I get to pass it on to younger talent."
Today's generation could also use a reminder as to the genius of playwright, August Wilson. Signature Theatre is keeping Wilson's legacy alive with a new production of his Pulitzer Prize-winning The Piano Lesson. The fourth play of Wilson's epic Century Cycle, The Piano Lesson is a powerful drama depicting the Charles family battling their surroundings and each other over their shared legacy--an antique piano. The new production directed by Ruben Santiago-Hudson premiered this past week and runs until Dec. 16th.
Reaching the youth and a broader base is one of the goals of Opera Ebony, the longest surviving African-American Opera Company in the U.S. The organization celebrates its 40th anniversary with a musical montage of Sass' N Class on Friday, November 16 at Aaron Davis Hall, City College of New York. The 7-year old piece will celebrate America's best popular music from the catalogs of Duke Ellington, Jerome Kern, Ira Gershwin and Cole Porter. For managing director, Gregory Sheppard the approach of mixing opera with classic and contemporary material is but one of the many ways he aims to make the musical genre more accessible. "We have the ability to take productions to public schools, churches and to areas where the population would more than likely not be exposed to opera and classical singing. By exposing our humanity and presenting programs that are neither stuffy or rigid we break down the barriers that make people feel this music isn't approachable and is an elitist art form," he says.