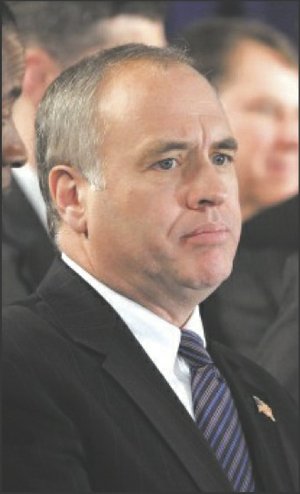 In one corner, there's New York Gov. Andrew Cuomo. In the other corner, there's New York State Comptroller Thomas DiNapoli. In the middle? The working- and middle-class New Yorkers whose futures lie in the hands of their elected officials.
On Monday, Cuomo continued to make his push for pension reform in Albany. Cuomo wants to cut pension costs by converting to a 401(k)-style system in which public employees would invest more and the state would contribute half of its share. DiNapoli said that his analysis proved that such a system would be dangerous for New York's public sector employees. Regardless, Cuomo said he'd make sure the citizens of New York State would know the names of each legislative official who opposed his idea.
"The unions weren't elected by the people of this state," Cuomo said this week. "The Assembly members were. The senators were. And those are the ones I'm going to hold accountable. For a legislator to say, 'I'll only do it if the unions tell me it's OK--how about the people who elected you? How about the citizens? How about the taxpayers, as opposed to just the [political campaign] donors?"
The Senate's Republican majority and the Assembly's Democratic majority have said they support some of Cuomo's proposal. They have yet to offer an alternative, which is expected on March 12, when the majorities release their proposed state budgets. Cuomo and Senate Majority Leader Dean Skelos and Assembly Speaker Sheldon Silver will try to negotiate a 2012-2013 state budget before the April 1 deadline. Legislature leaders have said an agreement could be reached a week earlier than that.
At the state conference of mayors, DiNapoli said he supported the idea of a 401(k)-style defined-contribution plan, as long as it stayed in tandem with a defined-benefit plan like the state currently uses. Defined-benefit plans pay retirees a guaranteed annual rate based on their final average salary and years of service.
After the speech, DiNapoli told reporters, "To me, it's the most troubling part of the proposal. I think taking [the defined-contribution option] off the table would certainly make a lot of sense from my point of view." New York State United Teachers spokesperson Carl Korn agrees,
"His proposal to provide a 401(k) option is dangerous because every study shows that a 401(k)-style retirement plan is not sustainable for the vast majority of middle-class workers," said Korn. "They wouldn't be able to put enough into their 401(k) for retirement, and it would be an even greater burden on taxpayers. 401(k) accounts were designed to be supplements to pensions and to be a side dish, not the main course.
Back in late October, New York City Comptroller John Liu announced a proposal that would change how the city handles pensions for public employees. Liu wants to turn over investment management of city pension funds to a nonpolitical board of financial professionals. The five pension boards are currently appointed by elected officials and the unions themselves. Liu's plan, through consolidation, would eliminate much of the say unions have in their investments.