She put the 'soul' in soul food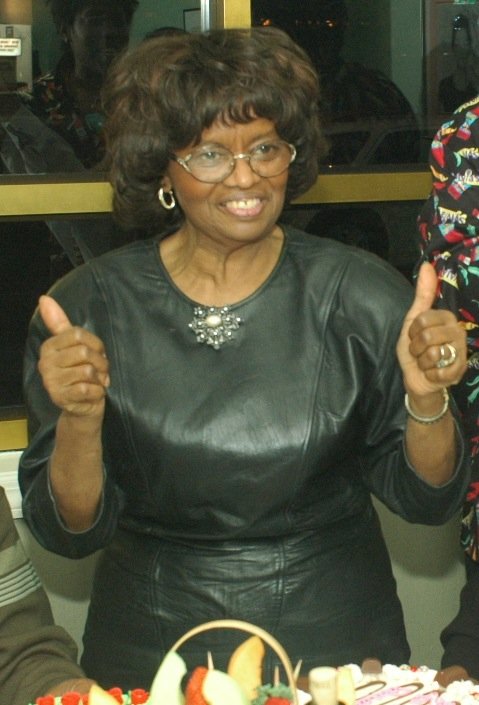 Delivering the eulogy for Mrs. Sylvia Woods, the Rev. Al Sharpton found the perfect metaphor for what the "Queen of Soul Food" meant to the world. "She was connected," he explained, his voice rising to another pleasant decibel. "She was connected to us in so many ways, and her story needs to be told.
"It wasn't an easy journey from Hemingway to Harlem," Sharpton continued, referring to her birthplace in Hemingway, S.C., and the place where her reputation grew and expanded.
Woods, after a long battle with Alzheimer's disease, passed on July 19. She was 86.
The story of how a mother invested in a daughter and a daughter invested in a community, Sharpton insisted, is a story of how "God wrapped an apron around a woman and attracted even presidents to her place. This is a story we must tell...this is a story our children need to know."
Chapters of Woods' remarkable story exuded from the mouths of speaker after speaker at Grace Baptist Church in Mt. Vernon Wednesday morning, each seemingly more eloquent and thoughtful than the next.
From the opening hymns and invocation from the Rev. William Franklyn Richardson III, son of the church's senior pastor, to the magnificent voices of Ron Grant, Robert Mack and Woods' granddaughter Michaella Phillips, aspects of her glorious life were recalled.
Given her importance and magnitude, three celebrations were held for Woods, and the Rev. Calvin Butts told the overflow crowd about the first one at his church, Abyssinian Baptist. "But more than that, let me say to the family that I am your brother," he said. The final celebration will occur on Saturday in South Carolina.
For Mt. Vernon Mayor Ernie Davis, Woods' life was "worthy of humility." She possessed a "sense of values and warmth...we need to invest in ourselves the way she invested in our community."
Woods was not only "a spirit on the table," said the Rev. James Forbes, pastor emeritus of Riverside Church, "but a spirit in the atmosphere, and that spirit built a community."
Former Gov. David Paterson, his wit as sharp as ever, anticipated Sharpton's eulogy with his own soul food memories and a meal that, once ingested, "left you feeling better than when you arrived," he said. Citing a bit of Shakespeare, Paterson compared Woods to the stars. It was a useful segue for former Mayor David Dinkins to invoke Ralph Waldo Emerson and Dr. Martin Luther King Jr.
But more down to earth, the mayor said that patrons at Sylvia's "were not just customers, they were neighbors. She was the matriarch of our community."
The NAACP's stalwart in the Northeast, Hazel Dukes recalled the significance of Sylvia's as more than a place to eat, "though we made sure we ate there before we were arrested," she laughed.
Not be outdone by her predecessors, Dukes cited stanzas from Margaret Walker's great poem "For My People." She gave special emphasis to parts of the final stanza: "Let a second generation full of courage issue forth; let a people loving freedom come to growth. Let a beauty full of healing and a strength of final clenching be the pulsing in our spirits and our blood," she said, giving special attention to Tamika Mallory and Dominique Sharpton.
Woods' sons, Van and Kenneth, thanked the community for caring so deeply for their mother. "She loved people," they said, "and now all that love is coming back to us."
The church's senior pastor, W. Franklyn Richardson, was traveling in Africa and could not be at the services. However, he sent a video to the family telling them "you are in my thoughts and prayers."
Among the others in attendance were State Sen. Ruth Hassell-Thompson and Assemblyman Adam Clayton Powell IV. In the program for the service were letters from Gov. Andrew Cuomo and Rep. Charles Rangel.
"Ms. Sylvia Woods now takes her place alongside our other freedom sisters who have contributed and dedicated their entire lives to uplifting the civil rights, social justice and education equality of all Americans despite race, color or creed," Rangel wrote.
As was said of another great American, Woods was a credit to her race--the human race.