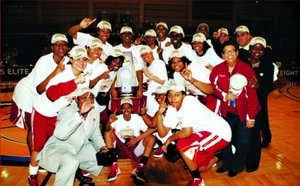 One has to wonder how a rookie feels when he enters the NBA with high hopes and oodles of potential only to end up on a losing squad.
The Nets lost another tough one to the Utah Jazz 105-84 on Monday night at the Prudential Center. Enter first-year pro MarShon Brooks, who probably isn't used to losing this much. Brooks didn't play on a lot of great teams during his years at Providence and probably isn't all that thrilled about losing game after game with the Nets.
The losing hasn't appeared to diminish his humorous side, though. Brooks displayed a lighter side of the Nets when he wore a woman's purse during a post-game interview. Just as the interview got started, Brooks was ordered by the veterans in the locker room to grab the pink and black purse from a bin above his seat and hold it while he talked with reporters.
"They mess with me a little too much around here, but it's alright," said Brooks, who had 10 points on Monday and is averaging 12.7 points and 3.6 rebounds this season.
The Nets, who hosted Indiana last night (Wednesday), could certainly use a little laughter these days. With Brook Lopez out and Deron Williams frustrated, we're sure people are wondering if there is any light at the end of the tunnel.
Those tense feelings usually lead to a tight locker room. The sports business is a bottom-line business just like any other industry, but a little levity every now and then doesn't hurt. A little levity can also bring a team together during hard times. Brooks, although not the type of man who likes to carry a purse, took the rookie hazing in stride.
"No purse. That's not my style," Brooks continued. "But I have to pay my dues."
Spoken like a true rookie.