Courageous civil rights activist, the Rev. Fred Shuttlesworth, dead at 89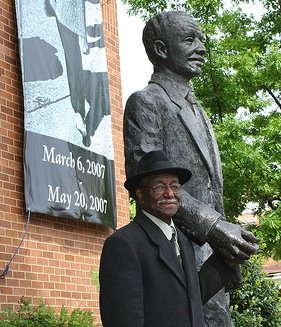 "Audacity" and "defiance" are just two words that come to mind when recounting the life of the Rev. Fred L. Shuttlesworth. A courageous freedom fighter as often content to be a loyal lieutenant in the struggle for civil rights, Shuttlesworth died Wednesday, Oct. 5 at the Princeton Baptist Medical Center in Birmingham, Ala. He was 89.
During a violent period of American history when Birmingham was widely known for "Bombingham," due to the number of bombings ignited by arch-segregationists and Ku Klux Klan members, Shuttlesworth bravely opposed their attacks, even surviving beatings and watching as his home and church were destroyed by racists.
But in an odyssey marked with personal milestones, the minister may have reached his zenith in 1963, when he openly challenged the brutal policies of Birmingham's public safety commissioner, Eugene "Bull" Connor, that so rigidly symbolized the confinement of Jim Crow laws.
At first, Shuttlesworth had some reservations about using Black children in civil disobedience demonstrations, but that strategy proved effective, despite the attack dogs and fire hoses used to stifle the marchers. Graphic scenes of people being tossed head over heels and German shepherds snarling and biting the protesters were shown all over the world. The images came to signify both the viciousness of a segregated society and the determination to bring it to an end.
Americans vividly recall Dr. Martin Luther King Jr.'s "Letter from a Birmingham Jail," but it was Shuttlesworth who played a vital role in galvanizing the marches and demonstrations that placed Birmingham in the vortex of the Civil Rights Movement. Things there would later intensify with the bombing of the 16th Street Baptist Church and the murder of four Black girls. This action was an outgrowth of the successful March on Washington a month before in the nation's capital.
It was a turbulent time and Shuttlesworth seemed just the man capable of meeting the Klansmen and their cohort of evil without quavering. His background provides a glimpse of his moxie, and Taylor Branch, the famed journalist, offered this profile of Shuttlesworth's early years.
Shuttlesworth, Branch wrote in "Parting the Waters," was "a volatile, rough-cut man who had been raised in the backwoods of Alabama. Convicted of running the family still in 1941, Shuttlesworth had wandered around Alabama as a truck driver and cement worker, discovering in the process that the natural gift his mother so prized in him, his memory, was well suited to the work as a country preacher."
He did not turn away from "the call," and was soon a proverbial country circuit preacher, or CC rider, often delivering sermons five times on any given Sunday.
It was this kind of preparation that made him a community leader ripe for King's Southern Christian Leadership Conference (SCLC). Shuttlesworth, dismayed that the local branch of the NAACP had been shut down by a court injunction, formed his own organization, the Alabama Christian Movement for Human Rights, which was merged into SCLC.
When King arrived in Alabama, Shuttlesworth was widely known as the "Wild Man of Birmingham," and his behavior stood in direct contrast to King's comportment. However, their differing demeanors and personalities were to be a perfect blend as they tactically dealt with the fight to overturn a Jim Crow society.