Offensive cookie still crumbling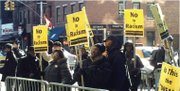 Fueled by three parts righteous indignation and one part is-he-out-of-his-mind? 20 or so activists gathered outside Lafayette French Pastry Bakers Inc. on Greenwich Avenue in Manhattan on Saturday to protest owner Ted Kefalinos' "Drunken Negro Head" cookies.
"I'm going to take a human sensitivity course," Kefalinos told the Amsterdam News, somewhat seriously. "Maybe I just didn't understand." "I used to live here, and that guy's been an a-- for years. He's a Republican idiot!" said a white,40-something male who stopped by the demonstration to pass on his opinion. He was among several whites who said they were embarrassed by the behavior of the local baker. The rally led by the New Black Panther Party drew a crowd of inquisitive and/or vexed passersby. The police quickly erected barricades.
"Lafayette bakery--shut him down!" yelled NBPP Harlem chapter head Shaka Shakur to an echoing chorus. Kefalinos denies that his grotesque pastries were meant to be offensive or incite racist sympathies with anyone in on the joke.
After being challenged by Fox's Arnold Diaz, who repeatedly asked Kefalinos different versions of "What the heck were you thinking?" the news item was
The Amsterdam News asked the baker if he didn't understand why Black people would be outraged by the ugly depiction and even nastier name. "Ah, it was a fun face for a fun day," Kefalinos said of his so-called inauguration/Barack Obama tribute.
Bad enough Kefalinos created an unflattering image; customers have come forward to state that he told them that "like Lincoln, President Obama will get what's coming to him." Now the under-siege baker claims that he simply meant that both tall presidents hailed from Illinois.
Period.
Yet affronted, members of the New Black Panther Party posted up outside his Greenwich Village shop on Saturday, January 31 to let him know they weren't buying his "apology" or the act that demanded it.
With additional rallies planned, Shakur said, "You can't let something like this go unanswered. We will be back. This store needs to be shut down." Shakur led the rally and the rallying cry on Saturday, which was, "No to racism! Lafayette bakery--Shut 'em down!" The store had its metal gate locked and a sign saying: "Sorry; closing today due to Asian Lunar New Year Celebration."
"It was very offensive. The store should be completely shut down," said 19-year-old protestor Terrane Hicks. "I just want to let it die," Kefalinos pleaded."I apologized to everyone. I'm hurt just like everybody else. "Not a chance!" proclaimed Divine Allah, youth minister of the NBPP. "He was arrogant and clear when he was interviewed before. Did he really think we were going to let this slide? This isn't the minstrel show!"
Asked specifics about his thought process, Kefalinos told the AmNews, "I'd rather not talk about it."
Apparently wanting to make his case, Kefalinos offered, "I went to City College. I know the Amsterdam News. I used to eat at Pete's Deli on Amsterdam Avenue."